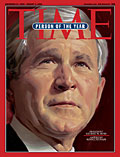 The story is
here
.
For sticking to his guns (literally and figuratively), for reshaping the rules of politics to fit his ten-gallon-hat leadership style and for persuading a majority of voters that he deserved to be in the White House for another four years, George W. Bush is TIME's 2004 Person of the Year.
Although this is no surprise, I did think that there was a chance that it would be
me
.
UPDATE: That was a joke. I'm an infant blogger with only a handful of readers. Certain widely-read blogs, however, became a real force for change this year. Also, the speed with which information now spreads because of blogs is amazing.